Big Announcement: Contest!!! Become a Facebook fan of Lovelight Photo and win a free engagement Session!!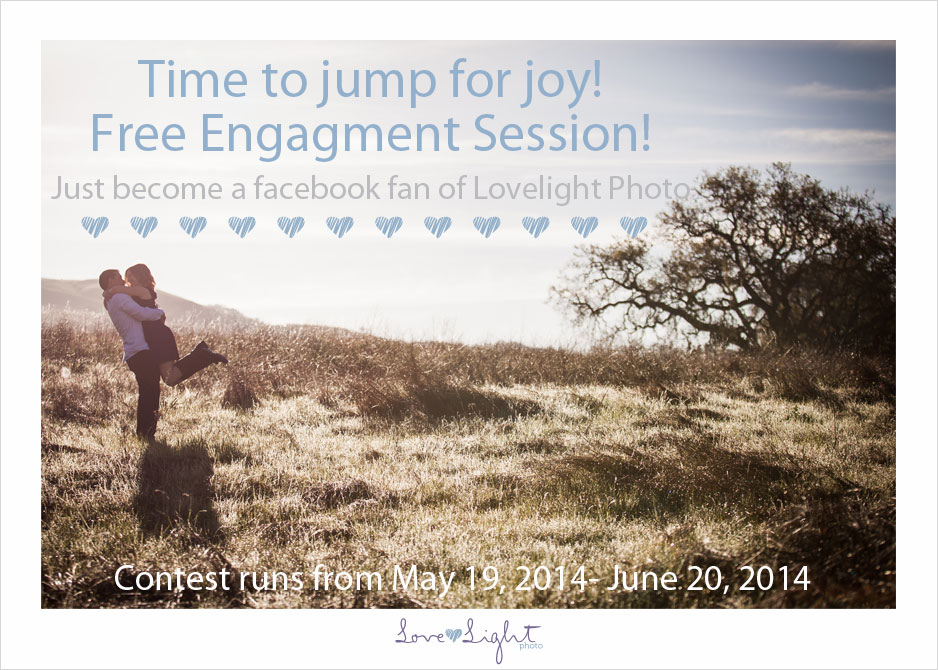 I am so excited to offer a free engagement photography session giveaway. I am trying to build my fan base on Facebook and I understand that after re-branding and re-emerging into the wedding photography field that it is so important to give back to clients and potential clients and stay in touch via social media! My goal is to reach 500 Likes on Facebook by the end of 2015. Having people from friends, family, clients, potential clients, vendors and anyone who enjoys seeing my work, like my page and share my page with those they know is a very big deal for this busy stay at home mom with her dreams and goals still in view! Yes-I am due with my second little lady in early June (I know busy-right!!), but I can't wait to take some amazing photos in 2015 (and even Fall, 2014). Because of this I am happy to do a free engagement session giveaway contest! It's free, it's fun and it's easy! Photography is my life and passion, in which I am fully invested and I am excited at the future of growing my business and to continue to take amazing photos! Please spread the word!
PRIZE: The winner will receive ONE FREE Engagement PHOTOGRAPHY SESSION, plus DVD of edited high resolution images. Bonus: Even if you don't win you are still a winner if you book your wedding with me- you will receive a free canvas print! GOOD LUCK!!!
HOW IT WORKS:
1. Become a fan of Lovelight Photo by liking my Facebook page.
2. Go to my blog: http://www.lovelightphoto.com/blog/ and comment on the original BLOG POST: Become a Facebook fan of Lovelight Photo and win an free engagement Session using the the Facebook Comments section box underneath the posting as shown by the example below with your name (if it's different then your facebook identity) and let me know you are a FAN of Lovelight Photo. (this is good for one entry)

BONUS ENTRY:  Share on a friend's Facebook page, Tweet, or post on your favorite forum about the contest giveaway and make sure to link back to this post! Feel free to use any of the social network icons to share in your favorite forum. After sharing or tweeting etc, post a new comment stating where you posted (provide a link) and this is also good for ONE entry for the contest giveaway.
RULES:
The contest starts today May 19, 2014 and is open to entries through Friday, June 20, 2014. Contest ends midnight June 20, 2014…so get those entries in!
• Winner will be chosen on June 20, 2014 (Hopefully that gives me enough time to go through all the entries and ensure they are valid…so please be nice and stick to the rules!)
• One entry per household, plus one bonus entry.
• Name will be drawn out of a hat at random the old fashioned way!
• Prize has no monetary value and cannot be exchanged, gifted, sold, traded, or put on sale or auction or whatever creative things people can think of these days! The session is for the winner only. If you believe someone could be interested, feel free to let them know about the contest!
• Contest is open to anyone, but the session MUST be done in Bay Area.
ENJOY everyone and Best of luck! Looking forward to working with the lucky winner! Thank you Facebook Fans!!
Facebook Comments