Category: Featured Engagement
---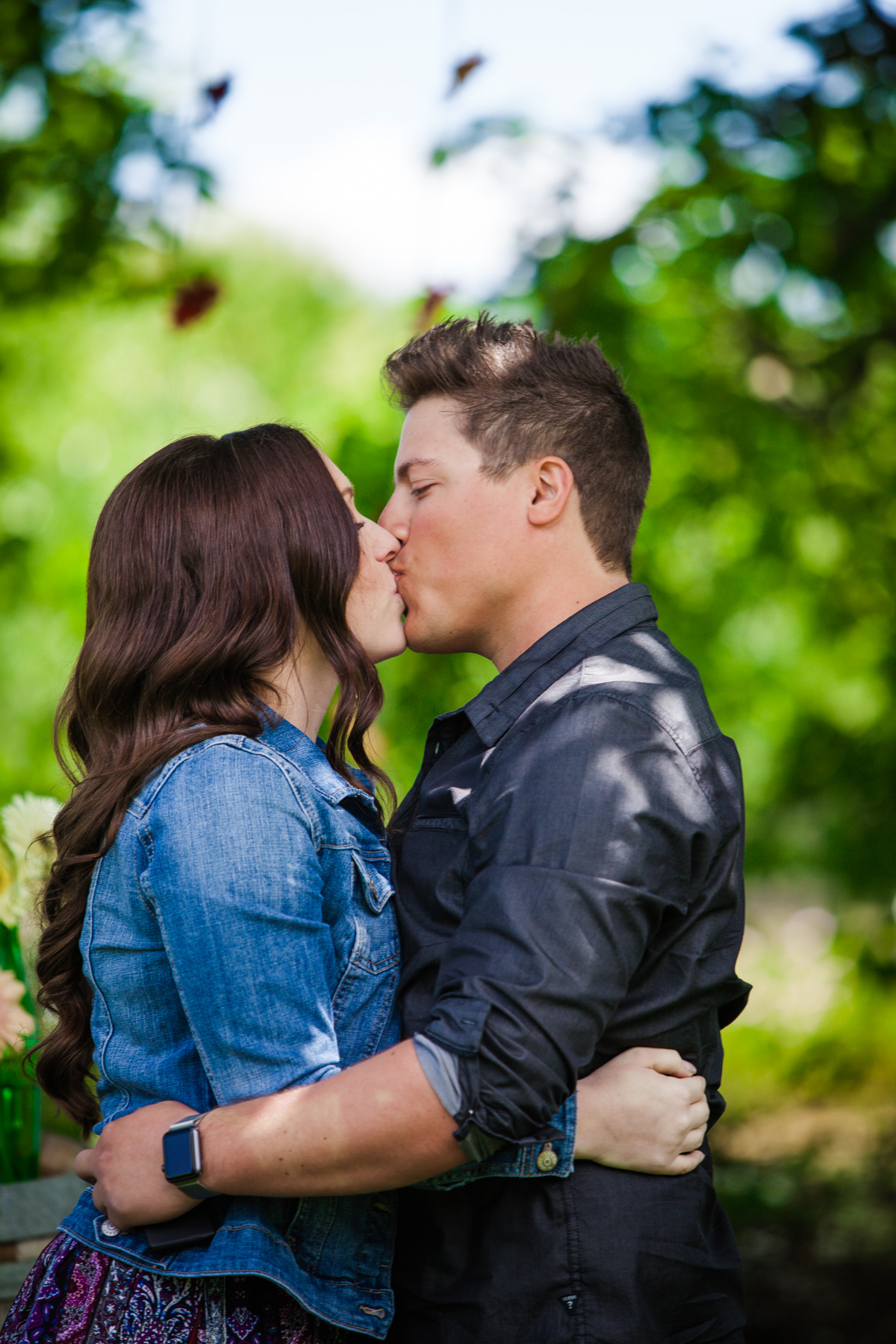 Just another beautiful day in Napa complete with puffy white clouds and a pleasant breeze. But this day was extra special for a certain Canadian couple visiting the area on a romantic vacation. Brayden was going to propose to Karly, and not just a proposal, but a Yes Girls proposal.  The proposal took place at Sullivan Vineyards in Rutherford, CA. The gardens there were flourishing and the wine was definitely flowing, but it was a truly amazing backdrop for such an important occasion. The owner of the vineyard actually came out to give them best wishes and congratulations-so thoughtful! Fiorello Studio did an amazing job setting up and supplying all the gorgeous flowers. There were gerber daisies everywhere and the proposal scene was just so simple and fun!  Karly was so confused when they came upon the wine barrells, she even thought that the winery made a mistake when she saw a photo of her and Brayden on one of them.  As they got closer she started to realize that this was all meant for her and the tears started to flow. As they walked from barrell to barrell they looked at memories and pictures that described their love and relationship, from the moment they met on double date to now as they are ready to settle down (in the same town!)  I was so happy for this couple and happy to witness such a love story from behind my camera. She said "YES!" Congratulations Brayden and Karly-have a happy life together!!
---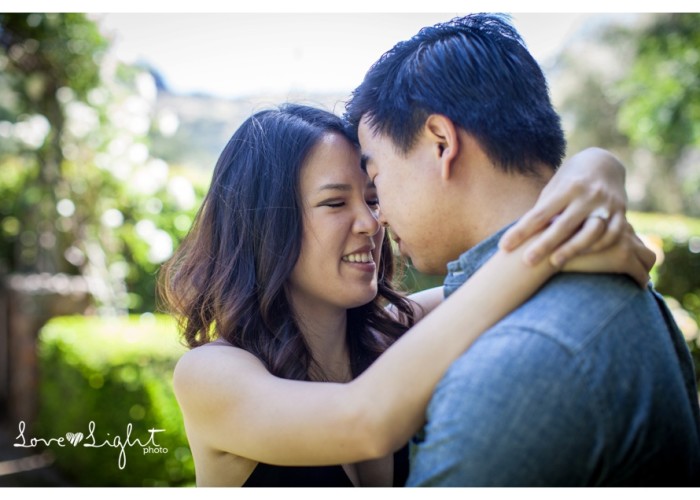 When  The Yes Girls  contacted me to see if I was available to shoot another proposal in the bay area-I was super excited! I just knew a few things about the couple and I was just excited to meet them and hear about how they met and just witness the proposal. May 1st was the big day and driving though the backroads in Napa in late Spring is quite a lovely experience! I was so happy to be headed to a surprise proposal at Pine ridge Vineyards to document the moment. Edward met Diana online and they really hit it off. They enjoy playing cards tother and Diana is a real card shark-so Edward's proposal theme was based on that. It was so cute-there were cards that had wonderfully emotional expressions of love on them and the King had the words, "will you marry me?" There were beautiful red flowers all over the table designed by Urban Botanica  and Pine Ridge Vineyards had set up a wine tasting and cheese board to enjoy. Edward did a great job keeping it a surprise and Diana looked so thrilled to finally say be able to say yes! She told me later that a psychic and her friend had a feeling that Edward would propose this weekend! They were not wrong!! Congratulations to the bride and groom to be!! You can see the San Francisco proposal I did with The Yes Girls  here: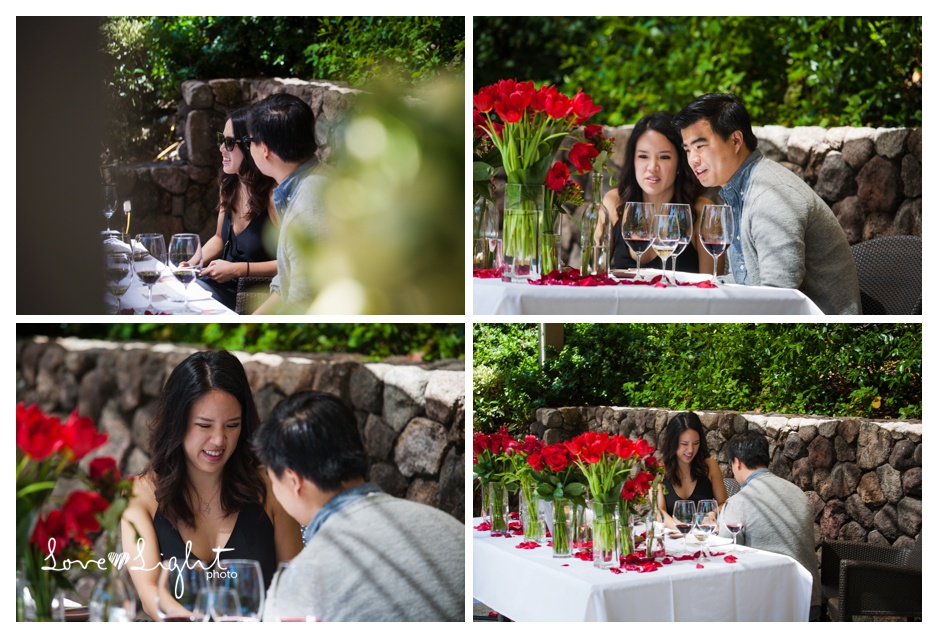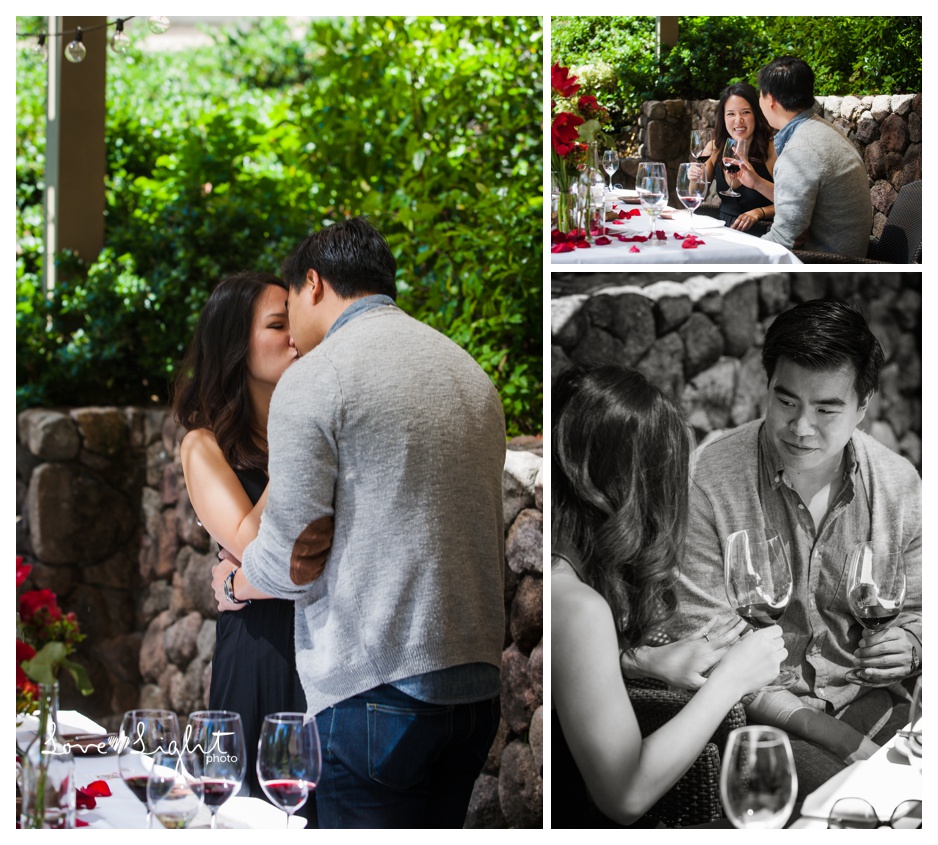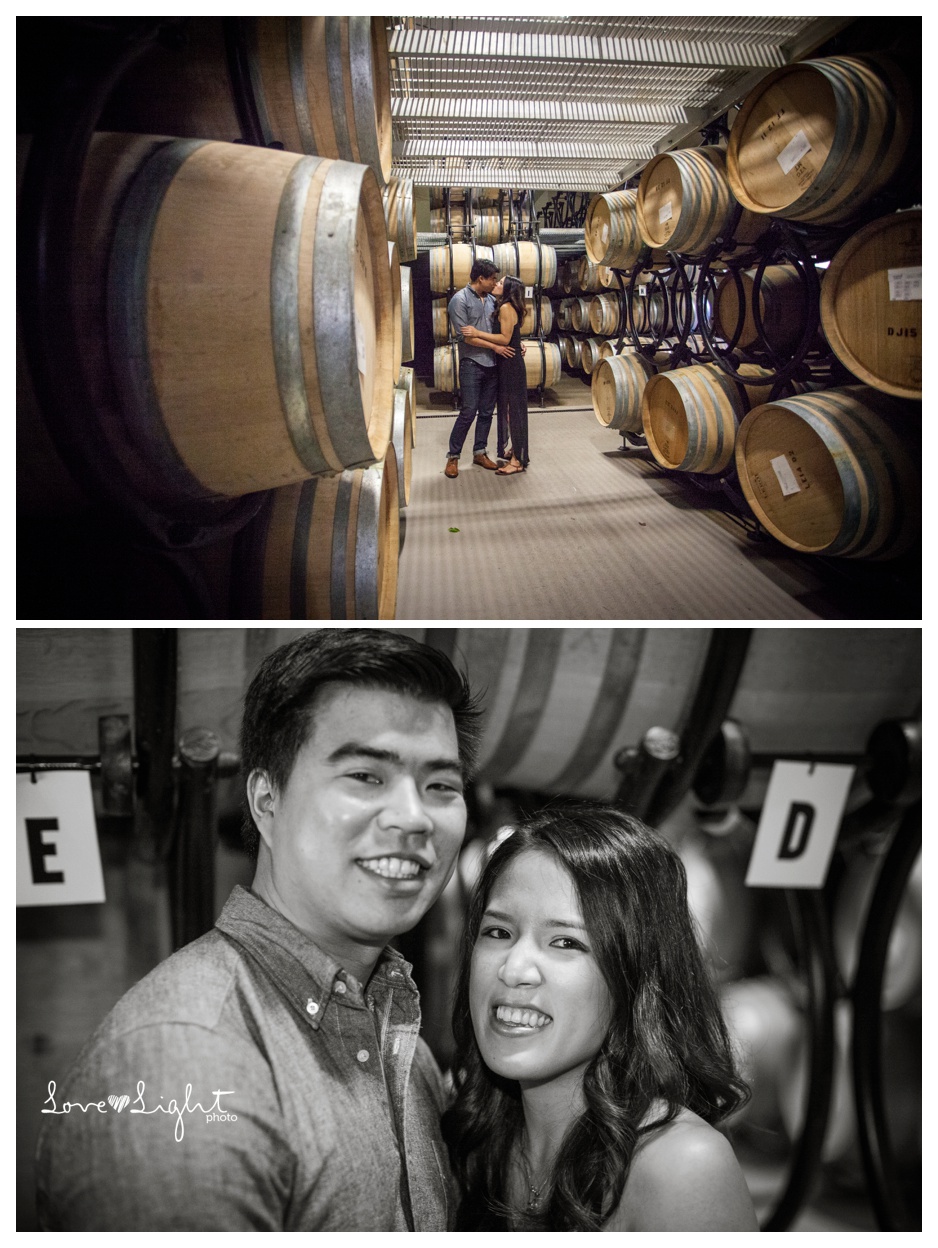 ---
Jayne and Joey are the cutest couple! They met through Jayne's sister and were sent on a semi-blind date in San Francisco. They met up at Bar 821 off of Divisadero and it was meant to be.  So it was fitting that we met there to start their engagement shoot. Tequila shots-one on the house from the bartender and we were ready to go! Of course we had to head over to Golden Gate Park next to capture the couple in their stomping grounds and such a amazing spot in S.F. There were amazing tulips in bloom over at the Conservatory of Flowers and there was a guitarist singing and playing the most romantic music in one of the tunnels . We ended the session over at Land's End-another amazing San Francisco photo spot, where to couple did a little smooching and dancing with the Golden Gate Bridge and the Pacific Ocean as a backdrop. It was a great afternoon and I can't wait to photograph their wedding in October!!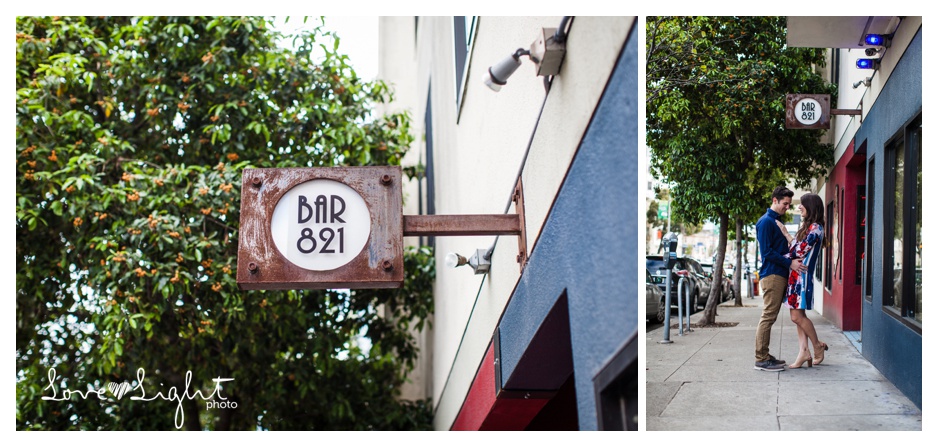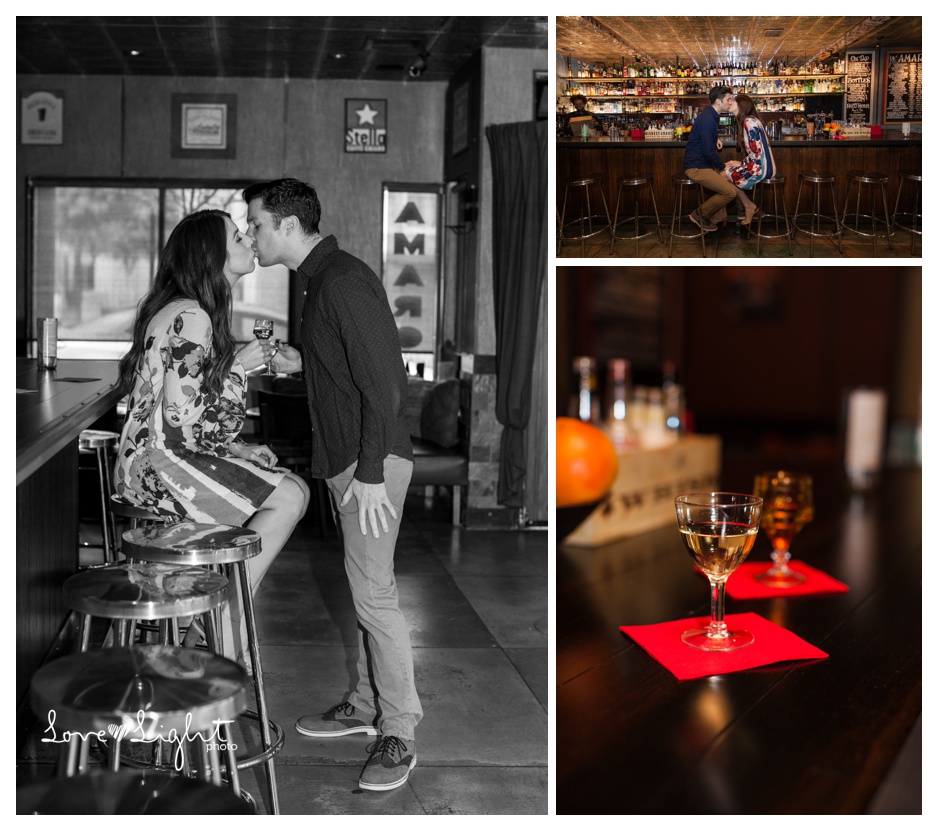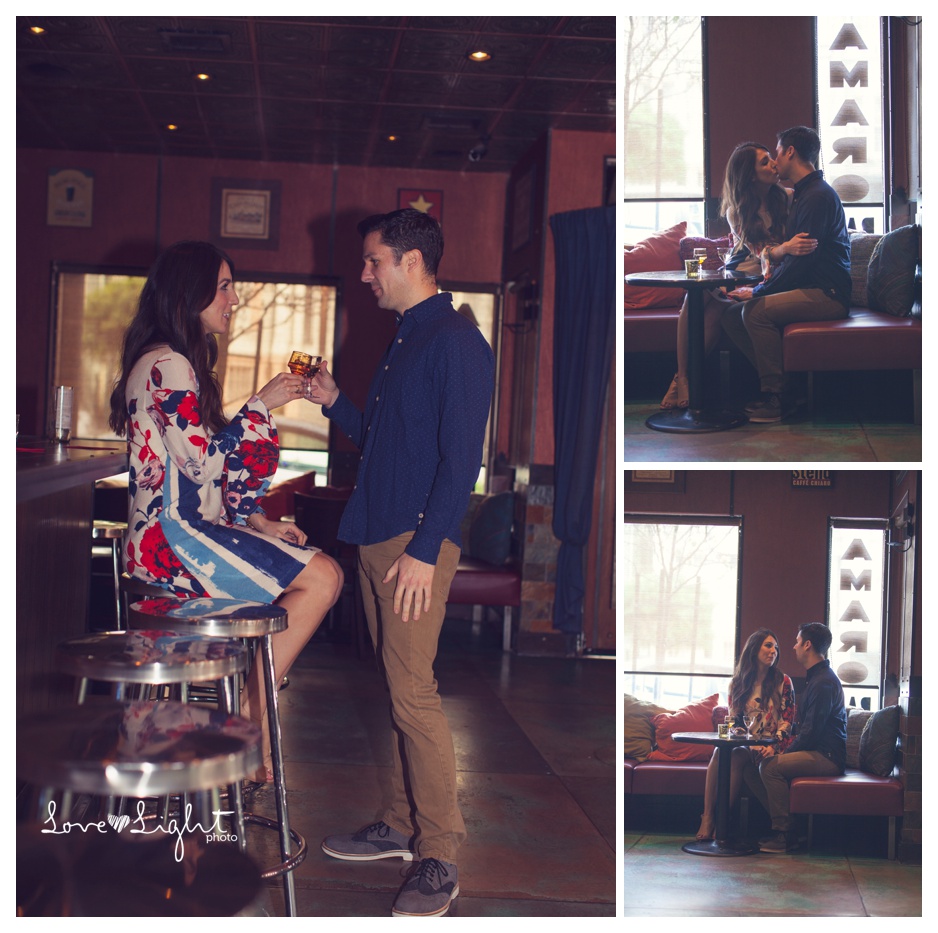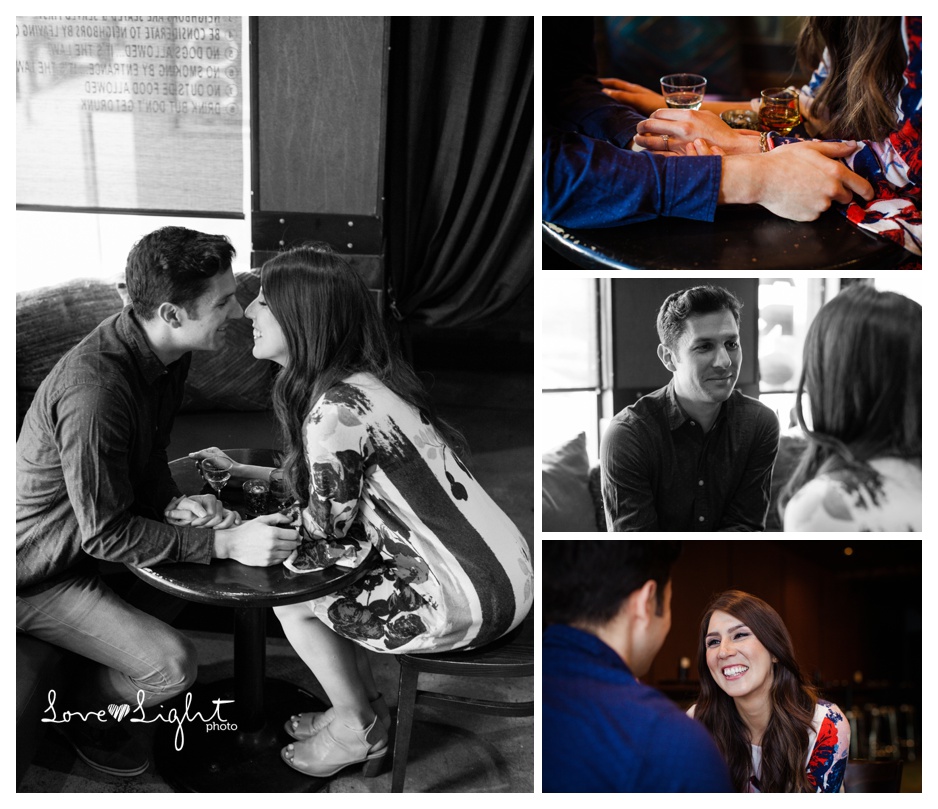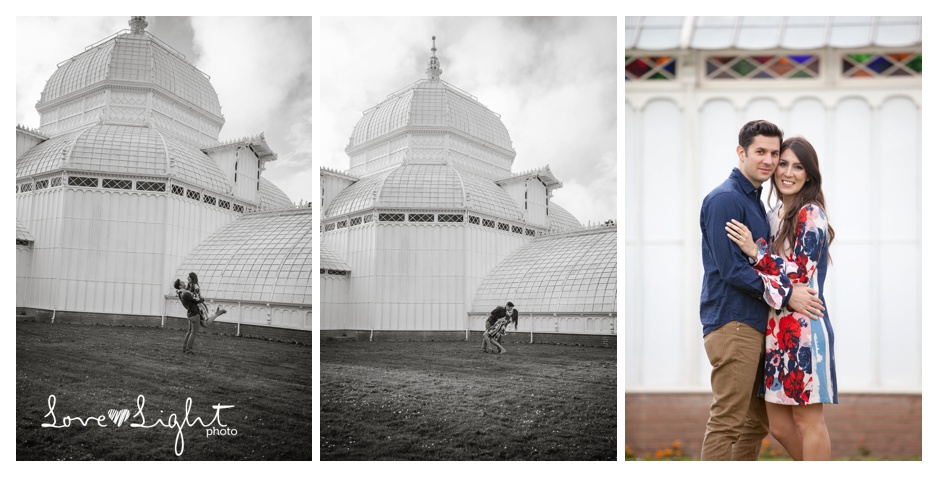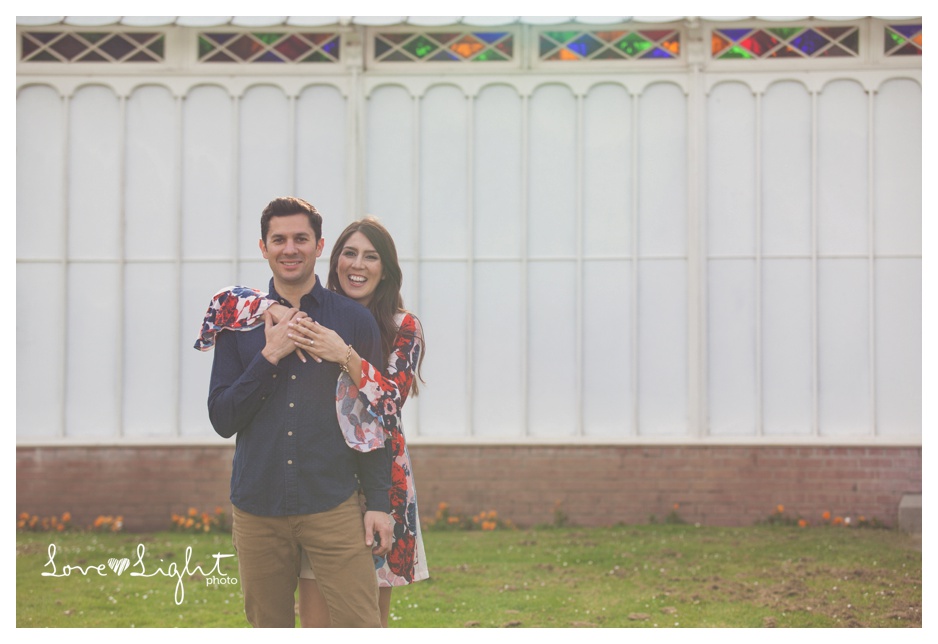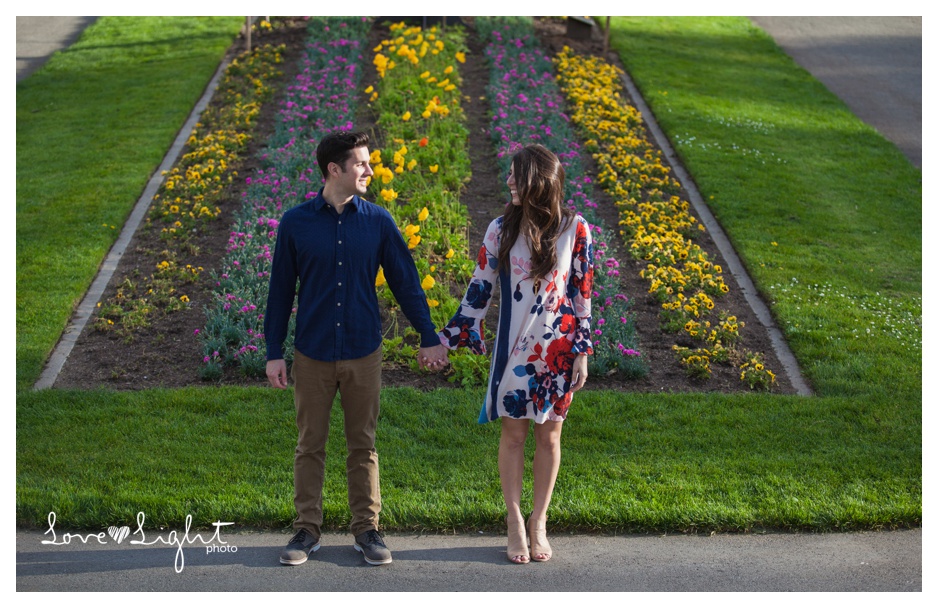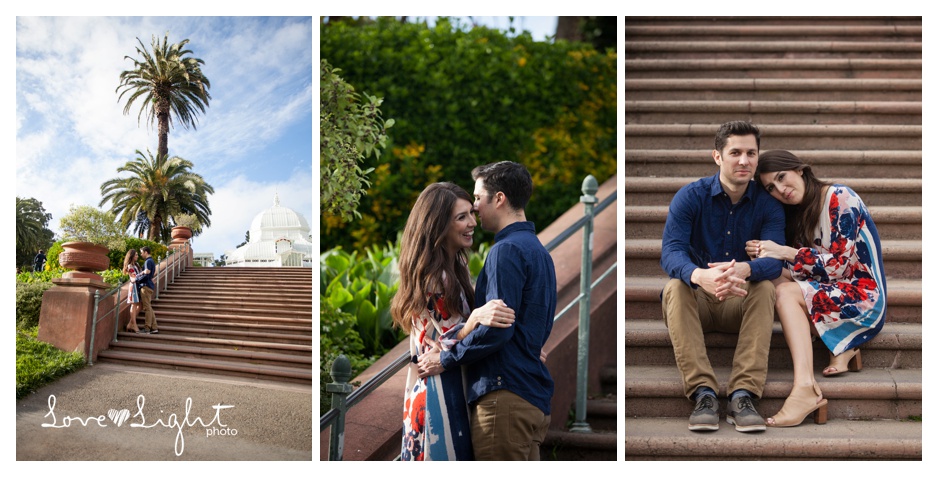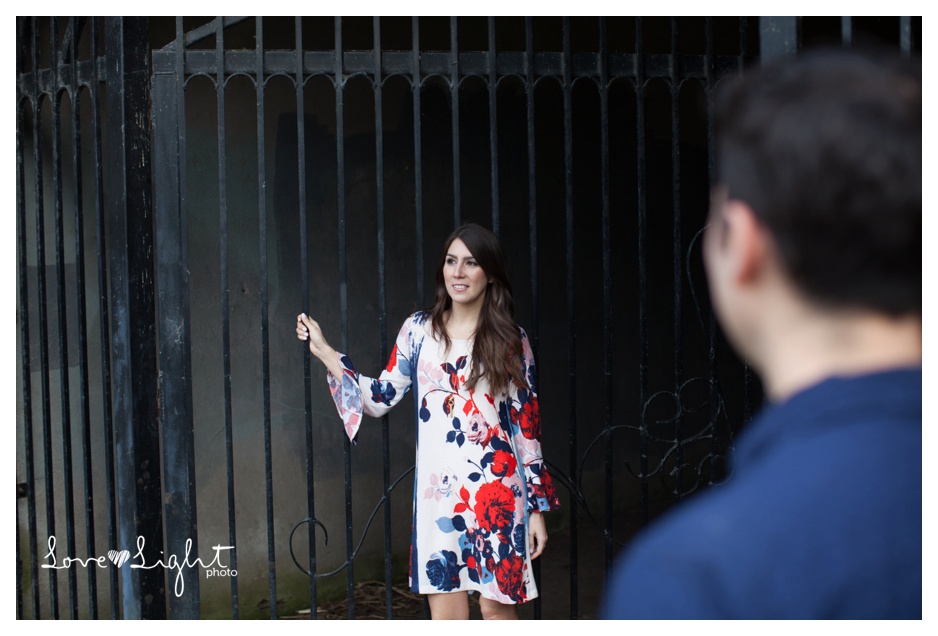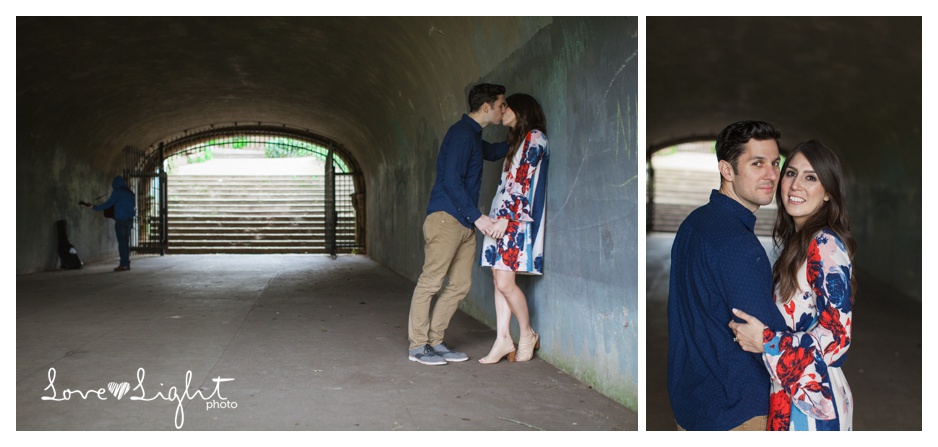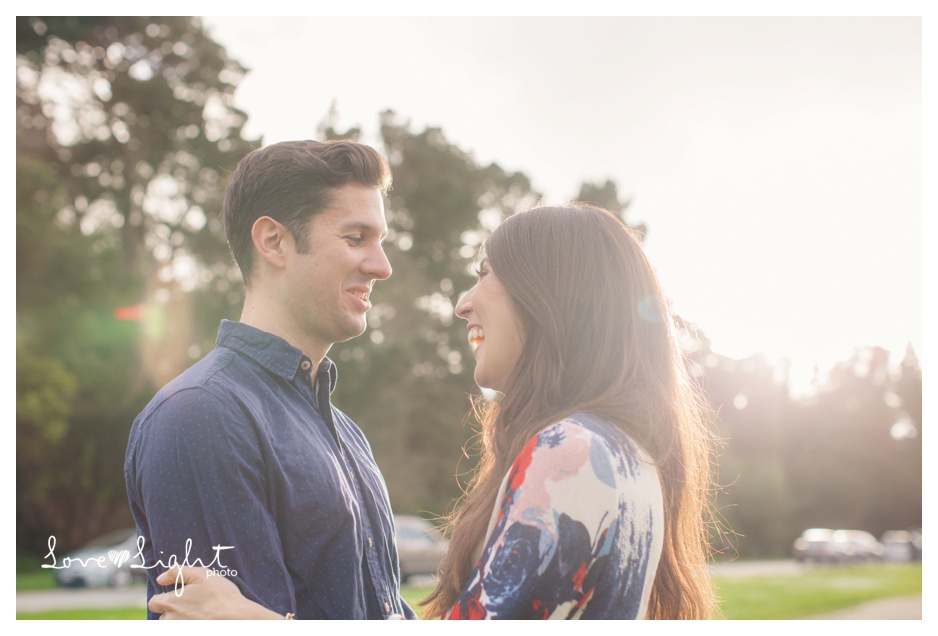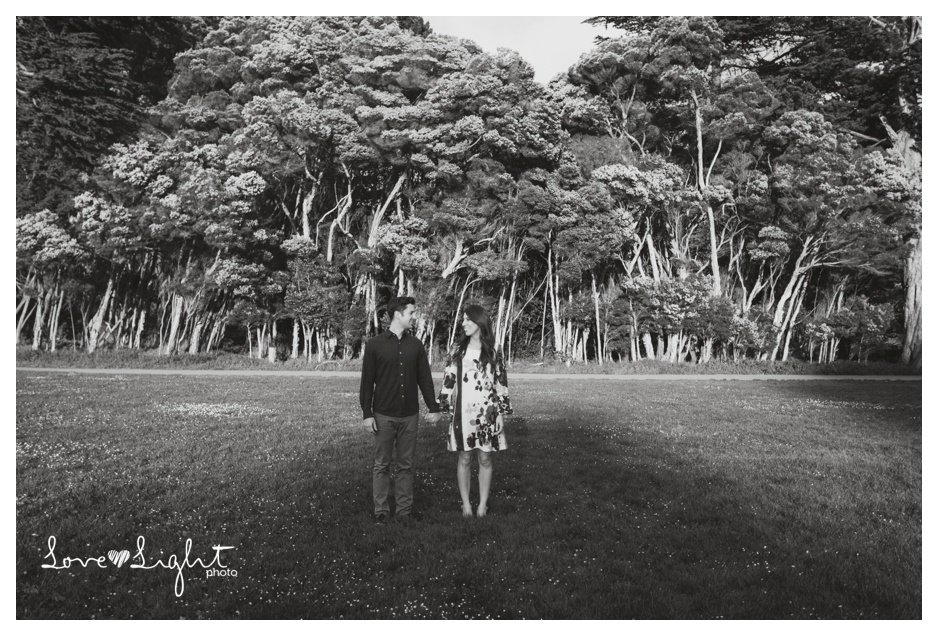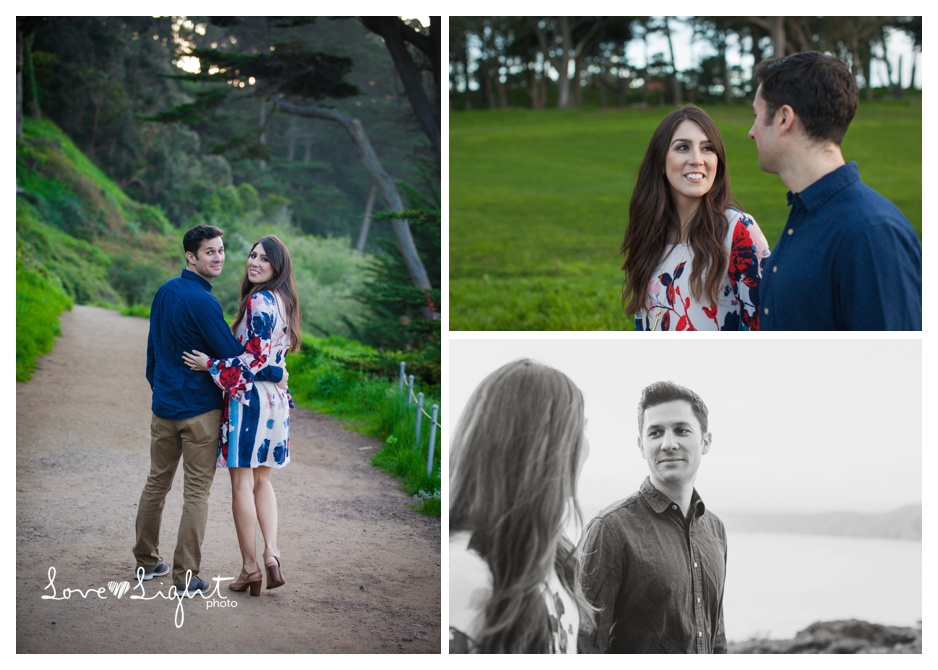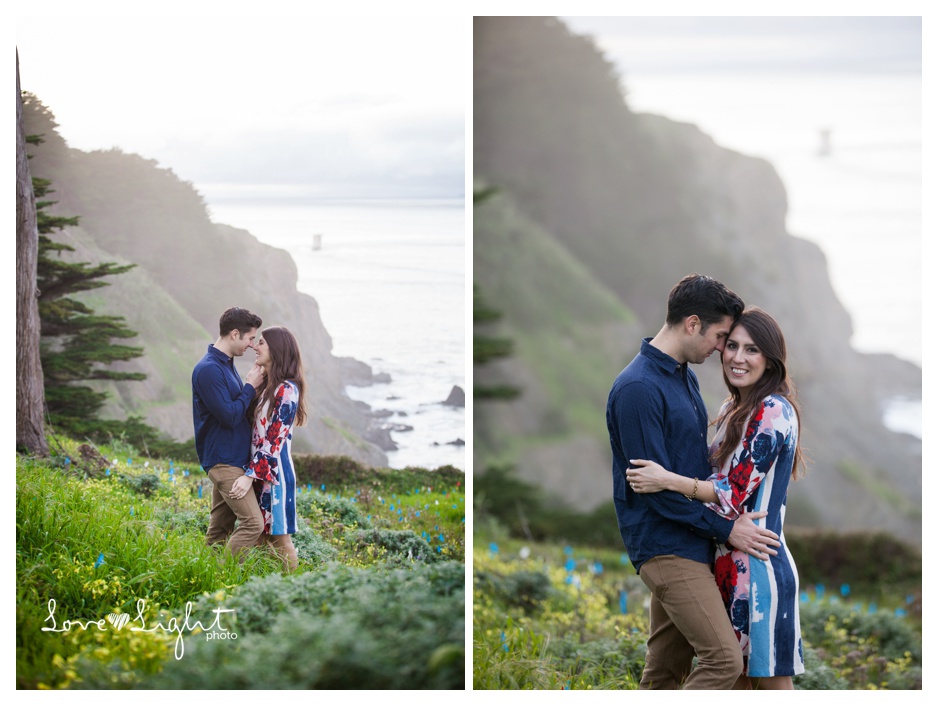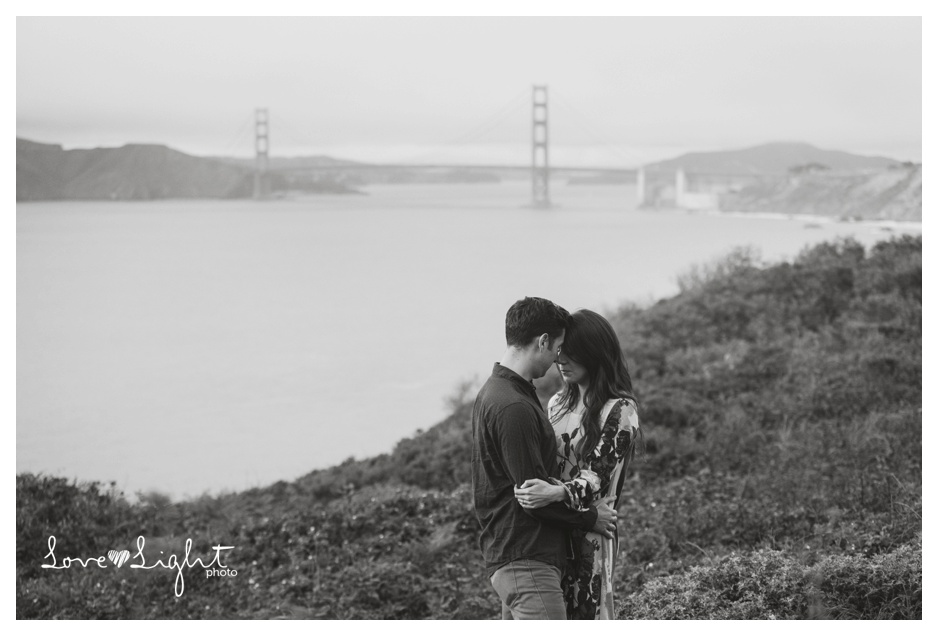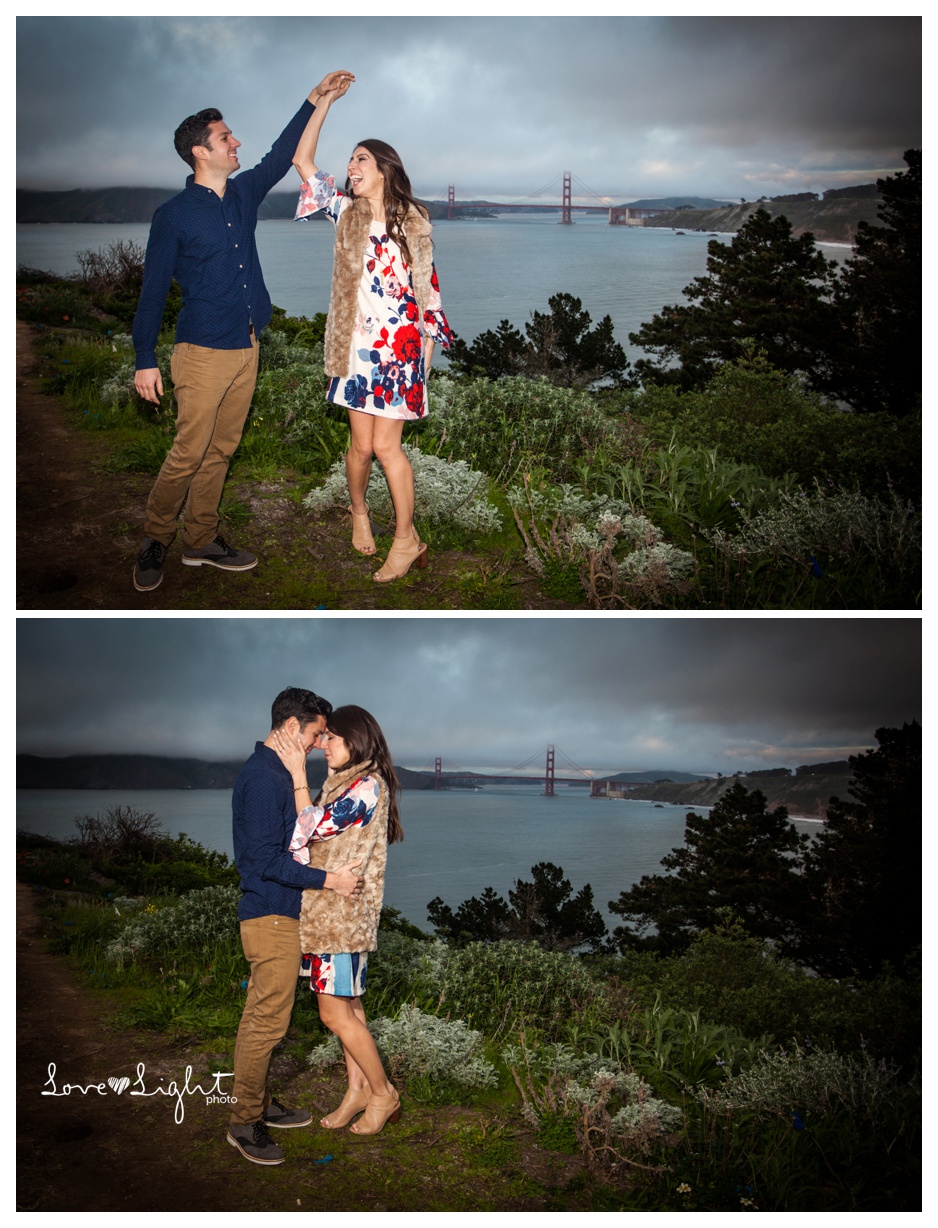 ---
Tommy's proposal to his sweetheart for almost two years,  Rachel was nothing short of breathtaking. There were candles, flowers, blankets and champagne. There was a handwritten poem. The backdrop was so picturesque as the dreamy fog rolled in over the cityscape a top of Loews Regency hotel in San Francisco.  He pulled out all the stops, including hiring The Yes Girls to assist in with this romantic and modern proposal.  The florist, Urban Botanica did a fabulous job on the flowers and set up. Everything was all ready, when Tommy led Rachel up to the 40th floor private balcony. She had no idea what was going on and I think she was so surprised.  Then she read the poem "your passionate kisses and heart of gold solidifies my love for you…"They both started to tear up as soon as she knew what was happening. I was so honored to be there and document the amazing moment. Thanks to the beautiful couple, The Yes Girls and to all the vendors-It went perfectly! Oh, and She said yes!!!!
---
I am extremely happy for one of my best friend's Anja (since high school!) and her fiance´ Rocky! These two lovebirds got engaged in Europe last summer and originally met at Burning Man a few years ago. They are such a great pair and I know they are going to build a beautiful life together. They live in Oakland and of course love it there, so it was a perfect backdrop for their engagement photos.  It is so romantic to be in the midst of train tracks, boats, palm trees and a cute doggie named Sadie. I love Oakland and I love these guys! Congratulations!!!
---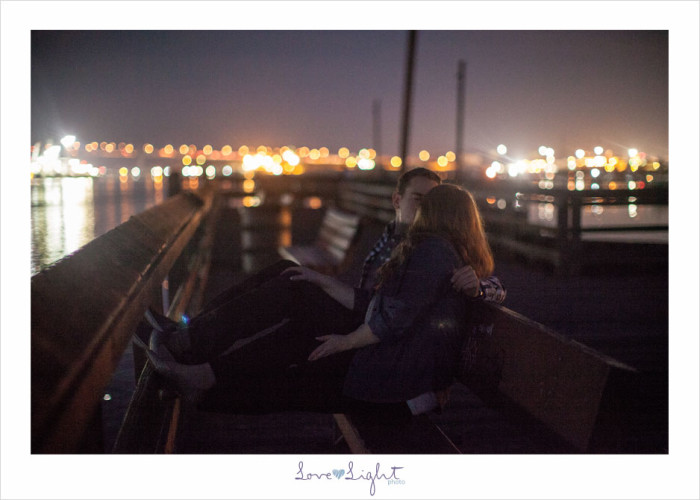 Chris and Kayla met each other at a mutual friend's wedding and were thankfully nudged together with a little help from those friends-and now I get to photograph their wedding! But first comes the engagement session and we decided to go to Martinez-which has a surprisingly amazing array of great backdrops for fun and flirty photos. I am so excited to share these images with this awesome couple that obviously came prepared with an assortment of cute props like records. We had fun shooting into the night for that magical night lights over the water! Can't wait to photograph their wedding next June!!
---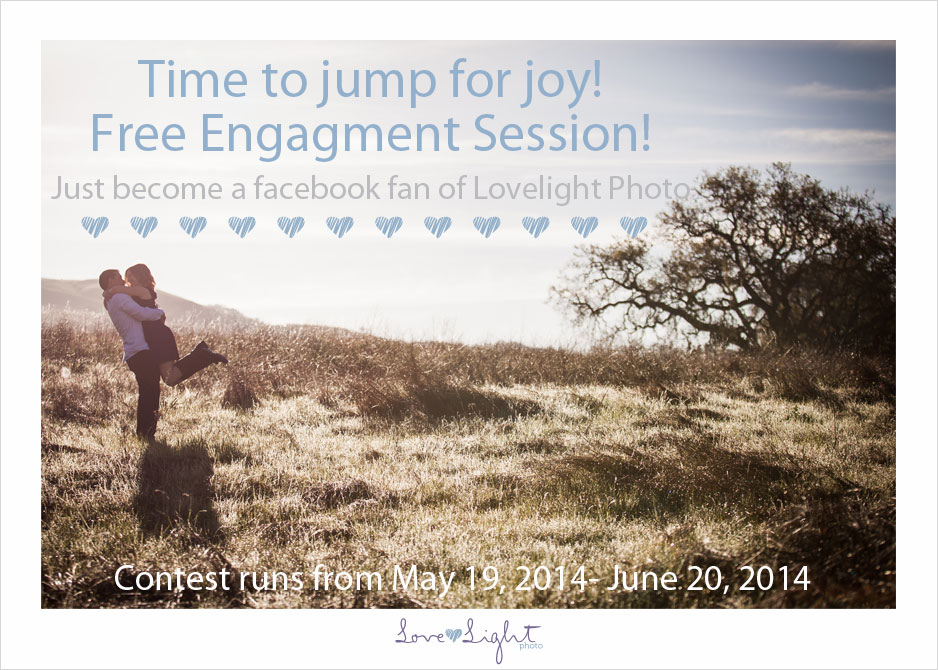 I am so excited to offer a free engagement photography session giveaway. I am trying to build my fan base on Facebook and I understand that after re-branding and re-emerging into the wedding photography field that it is so important to give back to clients and potential clients and stay in touch via social media! My goal is to reach 500 Likes on Facebook by the end of 2015. Having people from friends, family, clients, potential clients, vendors and anyone who enjoys seeing my work, like my page and share my page with those they know is a very big deal for this busy stay at home mom with her dreams and goals still in view! Yes-I am due with my second little lady in early June (I know busy-right!!), but I can't wait to take some amazing photos in 2015 (and even Fall, 2014). Because of this I am happy to do a free engagement session giveaway contest! It's free, it's fun and it's easy! Photography is my life and passion, in which I am fully invested and I am excited at the future of growing my business and to continue to take amazing photos! Please spread the word!
PRIZE: The winner will receive ONE FREE Engagement PHOTOGRAPHY SESSION, plus DVD of edited high resolution images. Bonus: Even if you don't win you are still a winner if you book your wedding with me- you will receive a free canvas print! GOOD LUCK!!!
HOW IT WORKS:
1. Become a fan of Lovelight Photo by liking my Facebook page.
2. Go to my blog: http://www.lovelightphoto.com/blog/ and comment on the original BLOG POST: Become a Facebook fan of Lovelight Photo and win an free engagement Session using the the Facebook Comments section box underneath the posting as shown by the example below with your name (if it's different then your facebook identity) and let me know you are a FAN of Lovelight Photo. (this is good for one entry)

BONUS ENTRY:  Share on a friend's Facebook page, Tweet, or post on your favorite forum about the contest giveaway and make sure to link back to this post! Feel free to use any of the social network icons to share in your favorite forum. After sharing or tweeting etc, post a new comment stating where you posted (provide a link) and this is also good for ONE entry for the contest giveaway.
RULES:
The contest starts today May 19, 2014 and is open to entries through Friday, June 20, 2014. Contest ends midnight June 20, 2014…so get those entries in!
• Winner will be chosen on June 20, 2014 (Hopefully that gives me enough time to go through all the entries and ensure they are valid…so please be nice and stick to the rules!)
• One entry per household, plus one bonus entry.
• Name will be drawn out of a hat at random the old fashioned way!
• Prize has no monetary value and cannot be exchanged, gifted, sold, traded, or put on sale or auction or whatever creative things people can think of these days! The session is for the winner only. If you believe someone could be interested, feel free to let them know about the contest!
• Contest is open to anyone, but the session MUST be done in Bay Area.
ENJOY everyone and Best of luck! Looking forward to working with the lucky winner! Thank you Facebook Fans!!
---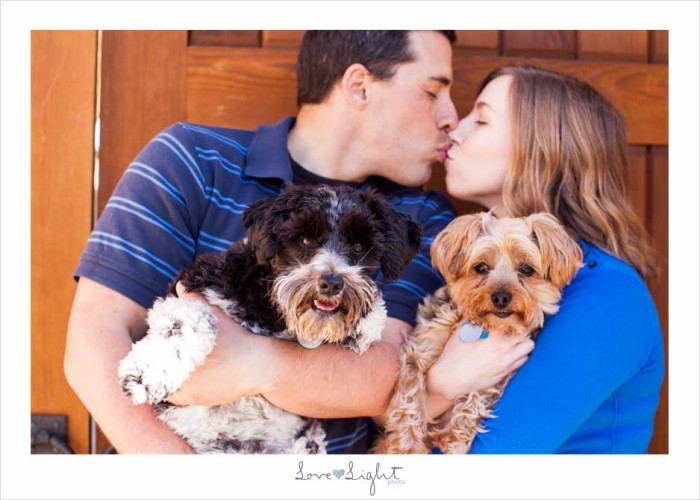 I had so much photographing this adorable couple this past weekend in Sonoma, CA. We started the photo shoot early in the morning to make use of  some pretty light at Crane Creek Open space. The park was a great place to photograph a outdoorsy couple like Jenn and Mike, who both love the rolling hills of California! Not to mention that Mike happens to work as a park ranger for State Parks of California! He was gracious enough to put on his uniform for some shots-and I could tell Jenn loves her man in uniform! Then we proceeded over to Sonoma State University, which is such a beautiful campus and has so many unique opportunities for both natural and structural backdrops. Jenn scouted that location out for me-and I loved it! Their little doggies were very good until we tied them up to a tree next to the lake and they unfortunately found some duck poop to roll in-Oh well-That's a wrap!